 Gary Howie – PGA Professional
Gary moved to Castletroy Golf Club in June 2017 having served as Head Golf Professional at Adare Manor Golf Resort for 10 years. Prior to that, he managed Golf Clement Ader, Paris and spent two seasons at Killarney Golf and Fishing Club in County Kerry.
Originally, from the West Coast of Scotland, Gary learned to play his amateur golf at West Kilbride Golf Club and trained to become a qualified PGA Professional there. Married to Kerry woman Helen and with two Limerick-born children, Tom and Ali, Gary is well settled in Limerick and enjoys the diversity of his role as Castletroy's Club Professional.
His daily routine includes meeting and greeting Members, their Guests, and Visitors to Castletroy, coaching all levels of players at the Club and managing his retail business.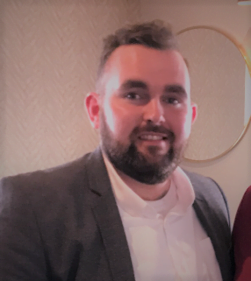 Jack Ryan – Assistant PGA Professional
Jack joined the Castletroy Pro Shop team in March 2019 where he quickly established himself as an integral part of the cohort of staff who run the Pro Shop on a day-to-day basis. Jack's passion for coaching and fitting comes from a mix of a very impressive amateur career and work experience gained at Adare Manor Golf Resort, Boca West Country Club in Florida, Charleville Golf Club and most recently in a Managerial position at McGuirks Golf Store in Tralee. He has an extensive knowledge of the golf swing and is able to marry your swing to the best equipment available matching individual needs. Jack is highly qualified to fit and coach players at all levels. He is in year 1 of the PGA Training Diploma, making great progress through the course. We wish him well for the next two years and many more in the golf industry…this young man will go far! Aoife Kenny – Pro Shop Assistant
Aoife Kenny joined the team in July 2020 having previously worked most recently at Adare Manor Resort and previously at Wexford GolfClub and Mount Wolseley Resort. A Tullow native, Aoife, by her own admission, "fell into" golf when one of her friend's mother asked her to play in a local Par 3 society day out! She fell in love with the game that day and has been completely hooked ever since with a goal to get her handicap down to single figures and eventually join the Professional Golfers Association. Aoife's handicap is currently 10…which after only 6 years in the sport is highly commendable and we look forward to watching her continue to progress.
As the only sister of 5 brothers Aoife played plenty of sport growing up in Carlow, favouring soccer and Gaelic football but has never been addicted to anything in the way that golf consumes her, you will often see Aoife finish her day in the Shop and go straight down to the chipping area or practice area to work on her game or directly on to the first tee to take on a few Members!
Aoife says she loves the game, the places it has taken her, the people she has met, and the places it has yet to take her and the people she is yet to meet! She has a huge interest in developing the games of Junior golfers, lady players, and assisting all Members with techniques, short game skills, and physical conditioning specific to golf.
Please call in and say hello any time at the Pro Shop where there are no such things as strangers…just friends who are yet to meet!